Bone Grafting Can Restore Your Candidacy for Dental Implants
Like many patients, you may have suffered extensive bone recession as a result of tooth loss. If you are considering dental implants, the weakened bone tissue can affect your ability to undergo treatment. Dr. Nguyen can perform a bone grafting procedure at our Lithia Springs, GA, practice to fortify your jaw and improve your candidacy for dental implants. Using one of several techniques, she will strengthen or build up the jaw so that your implants have sufficient support. If needed, Dr. Nguyen can also perform a specialized sinus lift or socket preservation procedure.
Are You a Candidate for a Bone Graft?
Bone recession results from tooth loss because your dental roots no longer produce regenerative signals. These signals direct the body to supply nutrients to the surrounding bone tissue. Even a single missing tooth can eventually cause the bone to atrophy. Of course, a greater number of missing teeth and also untreated, long-term tooth loss, will result in more recession. Bone degeneration can cause implants to fail since the metal posts require adequate support.
If you have suffered jawbone loss, and you do not have a strong foundation for implants, you may be an excellent candidate for a bone graft at our practice. After this treatment, patients are typically able to receive implant-supported restorations.
Bone Grafting and Your Surgical Options
Dr. Nguyen performs several types of bone grafting, and she will carefully select the right procedure for you. During a traditional graft, she will create a small incision in your gums to access the treatment area. Then she will place a tissue sample over the area and in some cases, use small screws to anchor it in place. She can often use your own bone tissue, taken from your chin or hard palate. However, in other instances, she may use animal or donated tissue, or a synthetic material. As you heal, the new tissue will integrate with the natural structure of your jaw.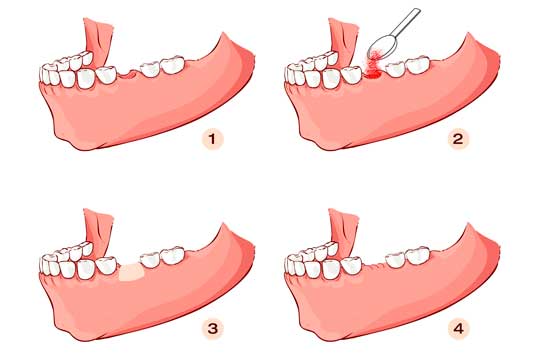 If you are going to receive implants in the back of the upper jaw, Dr. Nguyen may recommend a sinus lift. This treatment is similar to a bone graft, and your periodontist will rebuild the structure of your jaw. In addition, she will reposition your sinus membranes so that there is more room for the implant posts. There are two types of sinus lifts. If you still have a sufficient amount of bone tissue, Dr. Nguyen will typically perform a closed sinus lift. A lateral window lift may be more appropriate if you have too little bone tissue remaining.
Bone grafting requires care from a true expert in the field. Periodontics is one of just two oral surgery specialties, and Dr. Nguyen has over 20 years of experience in this area.
Ridge augmentation is a type of bone grafting that will focus exclusively on your alveolar ridge. This line of bone runs just underneath your teeth. Recession in this area will not only affect your candidacy for implants. It can also dramatically alter your appearance. With ridge augmentation, Dr. Nguyen can restore your oral health and the youthful contours of your face.
Why Choose Dr. Nguyen for Your Bone Graft?
Bone grafting is a precise treatment that requires care from a true expert in the field. Periodontics is one of just two oral surgery specialties, and Dr. Nguyen has over 20 years of experience in this area. She also uses advanced technology, such as the Kodak Cone Beam 3D System by Carestream. With this tool, she can capture incredibly detailed images of your jaw to plan a customized treatment.