Eliminate Excess Gum Tissue with Crown Lengthening
Crown lengthening with Dr. Nguyen in Lithia Springs, GA, can improve the health and appearance of your smile. This procedure is designed to eliminate excess gum tissue. It may be an appropriate option if you have a tooth that has broken off near the gum line, and it can also enhance the look of a "gummy smile." Dr. Nguyen uses very gentle, conservative techniques, and she will never remove more tissue than necessary. She will also carefully plan your treatment to ensure beautiful, natural-looking results.
Crown Lengthening for Improved Oral Health
In many cases, Dr. Nguyen will perform crown lengthening to prepare damaged teeth for restorative treatment. For example, if you need a dental crown, but your tooth has broken off along your gumline, Dr. Nguyen can remove soft tissue to reveal a greater portion of your tooth and make room for your new restoration. In other cases, you may need crown lengthening if you have dental decay or a fracture that is close to your gum line.
Cosmetic Crown Lengthening
Dr. Nguyen may also recommend crown lengthening for aesthetic concerns. If you have excess gum tissue, it can make your smile look too small or disproportionate. Alternatively, an uneven gum line can make your otherwise healthy teeth look crooked or uneven. During cosmetic crown lengthening, also known as gum contouring, Dr. Nguyen will remove tissue to expose more of your teeth. As a result, the treatment can give you a bigger, brighter grin.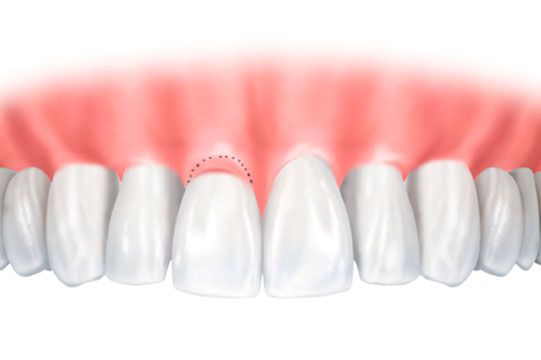 The Crown Lengthening Procedure
To ensure your comfort during the crown lengthening procedure, Dr. Nguyen will numb your gums. Thanks to her gentle methods, most patients are comfortable with local anesthesia, but we also offer additional forms of sedation, if needed. First, Dr. Nguyen will make tiny incisions in your gums, lifting the tissue away from your dental roots. In most cases, you will feel only a slight sensation of pressure during this step. Then she will remove a small amount of tissue. Sometimes, she may also need to eliminate a tiny layer of bone tissue, especially if you are going to receive a crown on a broken tooth. If you are undergoing cosmetic gum contouring, Dr. Nguyen may address the tissue around your adjacent teeth, as well.
Thanks to Dr. Nguyen's gentle gum contouring methods, most patients are comfortable with local anesthesia, but we also offer additional forms of sedation.
Recovery and Healing
After your treatment, you may experience some slight inflammation and irritation. You will generally be instructed to eat a soft diet during your initial recovery. Fortunately, healing is typically very quick, and you should enjoy restored health and a beautiful smile in just a few days.
Are You a Candidate for Crown Lengthening?
If you have excess gum tissue or a tooth that is damaged close to the gum line, you are likely a candidate for crown lengthening. Nevertheless, to qualify for elective treatment, you should have overall good oral health. Before performing cosmetic surgery, Dr. Nguyen will check for signs of gum disease. If she notices any symptoms, she will recommend appropriate periodontal treatment before proceeding.